Cobbler, shoe repairs, bag repairs, watch repair, engraving, key cutting, shoe care, waist belts, wallets, costume watches, etc. Established in 2017. Over 17 years experienced staff.
Address: Unit 31 A Golden Island Shopping Centre, Athlone, Co. Westmeath
Phone: (090) 647 8839 / (086) 0569637
Email: marjandakaj15@gmail.com
Sponsor of: Open File on Tuedays at 6pm
The Sound Factory is an established business in the heart of Ireland. They are a retail store selling musical instruments and related equipment. The Sound Factory give music lessons, operate a very successful hire business and also provide a complete installation service.
Address: Irishtown, Loughanaskin, Athlone, Co. Westmeath
Phone: (090) 64 78983
Email: soundfactory@eircom.net
Sponsor of: Livewires on Tuesdays at 7pm
The Viking Ship sails daily from the quayside at Athlone Castle from Sat 24th Mar until Sat 3rd Nov (weather & water levels permitting). Tickets can be purchased on board.
Address: The Quay, Athlone, Co. Westmeath
Phone: 086 262 1136
Email: vikingmike@vikingtoursireland.ie
Sponsor of: The Heritage Programme on Mondays at 6:30pm
Surrounded by beautiful gardens, The Shamrock Lodge Hotel is a family-run establishment located in the very heart of Ireland. It is a mere 10 minute walk to the beautiful River Shannon, Athlone Castle, Luan Gallery and Athlone' shopping area.
Address: Clonown Rd, Athlone, Co. Westmeath
Phone: (090) 64 92601
Email: info@shamrocklodgehotel.ie
Sponsor of: The Country Show on Sundays at 12pm
Glasson Craft Gallery have a wide range of Irish craft available: from jewellery, millinery, knitwear, ceramics, glassware, homeware, woodturning, local artisan foods and much more. Every piece is unique and is handcrafted in Ireland.
Address: N55, Glassan, Co. Westmeath
Phone: (090) 64 39760
Email: info@glassoncraft.ie
Sponsor of: For Arts Sake on Wednesdays at 6pm
Rob's Ranch House Athlone
American Country Ranch themed restaurant, serves breakfast, lunch, dinner, drinks and coffee.
Address: 84 Irishtown, Athlone, Co. Westmeath
Phone: (090) 645 0596
Email: rrhathlone3@gmail.com
Sponsor of: The Ranch on Wednesdays at 7pm
Eddie Rockets Athlone
Ain't no finer diner
Address: Unit 1, John Broderick Street, Athlone, Co. Westmeath
Phone: (090) 645 5667
Sponsor of: Music from the 70s, on Tuesdays at 1pm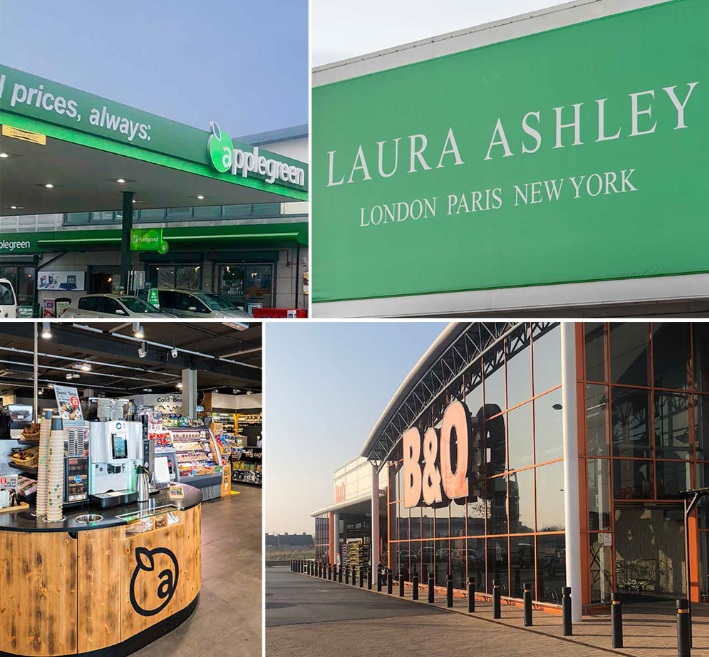 Arcadia Athlone Retail Park is a prime midlands retail destination just off Junction 11 on the M6/N6 Motorway with over 500 free surface car parking spaces. It is home to award-winning stores including B&Q Athlone, Laura Ashley, Carpetright, Applegreen, Paddy Power and many more.
Address: Arcadia Retail Park, Arcadia, Athlone, Co. Westmeath
Phone: hello@arcadiaathlone.ie
Sponsor of: The Final Whistle on Mondays at 6pm, and The Sports Hub Saturdays at 11am