By: Philomena Barry
Karen Goode is a socially involved artist and community worker who is involved with various local groups including Making Space Artists Collective, Poetry in the Park, and the Shannon Storytellers – a thriving group which she founded in 2014.
The Shannon Storytellers were established to provide an outlet for reciting original and published pieces of writing, and also to create a platform for old-style Seanachaí storytelling. The group meets in Flannery's Bar on the third Thursday of each month, at 8pm, and while Karen no longer hosts the storytelling meetings, she still attends when she can and loves seeing how contributions to the group have evolved over time.
The Storytellers have also formed a relationship with a similar group across the Atlantic; The Storytelling Institute of Phoenix, Arizona have travelled to Ireland three times in the last number of years, and each time they come they spend a night in Athlone so that they can join up with the gang in Flannery's!
Karen has contributed to all four collections published by Poetry in the Park and has assisted with children's art and craft clubs in Monksland and creative writing workshops for teenagers at the Gateway Youth Project in Athlone. She recently performed to a crowd of enthusiastic youngsters in the Civic Square as part of the Cruinniu na nOg festival; among other stories, she recited the story of the Children of Lir, adding her own twist at the end!
Last year, Karen took the plunge and started her own art classes. Named "Acrylics Craic," participants are invited to "bring their own" beverage, be it a bottle of wine or a take away coffee, which would be what I would choose!
I attended Karen's class a couple of months ago with a group of my friends and was not disappointed! We chose the picture ourselves (we told Karen what we wanted and she drew it!) and, even though we all painted the same thing, each one looked so different – it was great to see our different interpretations of the same image!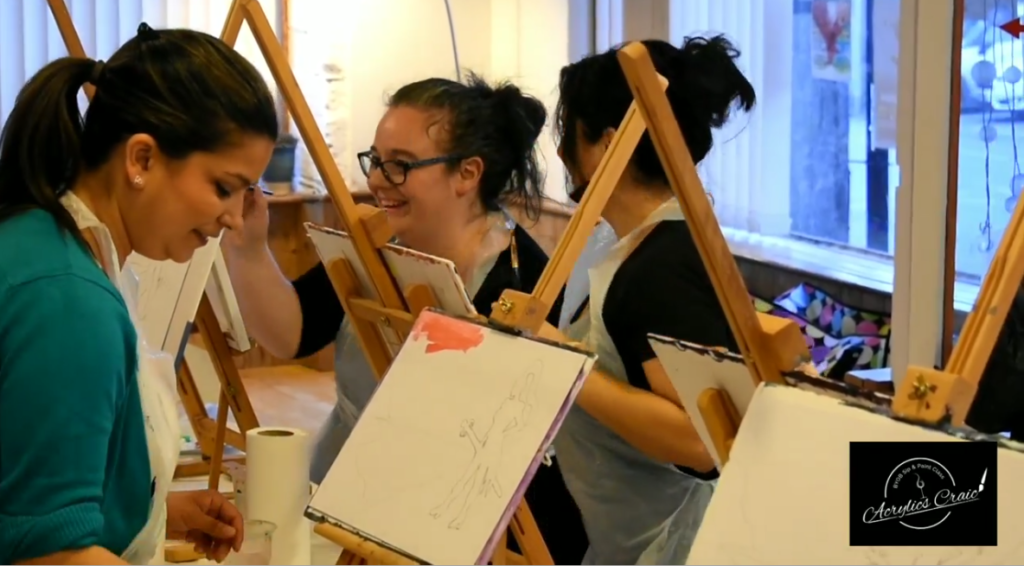 And as if all that wasn't enough to be getting on with, Karen is also the Treasurer of Making Space Artists Collective, a socially inclusive group of artists, writers, musicians, actors, DJs, and other academics who stage free events for the public throughout the year! The group's most recent event, Picnic in the Park, took place in Burgess Park in May as part of The Big Hello community weekend! Members of the public were invited to come to the park, relax and share a picnic, and paint; Karen was Artist in Residence for the day, so they were in great hands!
NOTE: If you are an artist, painter, writer, filmmaker, musician and want to get featured on our website, GET IN TOUCH. You can upload your work on Facebook, Twitter and Instagram by using the hashtag #FintansCorner and #CelebratingCreativity and we'll come looking for you.
Fintan's Corner is an Art's corner, a space to highlight creativity from all around the town of Athlone. This section is created in memory of Fintan O'Toole, our dear beloved volunteer at Athlone Community Radio who was a writer himself and loved arts in all its form. Welcome to Fintan's Corner or as he would say, "Welcome one and Welcome all".