Athlone Community Radio's Community Diary will highlight local events and Community resources taking place throughout Athlone.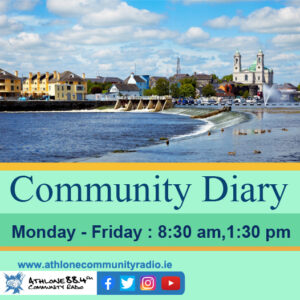 . The local Enterprise Office, Westmeath County Enterprise Awards is now open for entries. The competition is open to Westmeath Businesses operating in the manufacturing and internationally traded services sectors who have received financial assistance from the Local enterprise office Westmeath. The county winner will receive a prize fund of 5 Thousand euro as well as the opportunity to represent Westmeath in the national final and be in with a chance to win part of the 50 Thousand euro national prize fund. The closing date for completed applications is Friday, February 17th. Please contact localenterprise@westmeathcoco.ie for further information.
. Garrycastle GAA is delighted to announce that they will be hosting a Spring Fling event on Sunday, February 19th in the Radisson Hotel Athlone commencing at 2pm. Included will be an afternoon of fashion, style and wellness. Featuring guest speakers and TV stars. For further information or tickets please contact Denise at 086-6089673.
. SVP will host an information event on Wednesday, 22nd February at 8pm on Zoom. Are you kind and caring with a few hours to spare each week? If so the St Vincent de Paul team in St Mary's Parish Conference are looking for volunteers to visit those in need in the community as well as volunteers to help with some basic IT, accounting and/or fundraising. To find out more, please register for the SVP Information Event by e-mailingkathryn.corrigan@svp.ie.
. The Athlone District Girl Guides will host a table quiz in The Bounty Bar, Athlone on Thursday 16th February at 8pm. Your support is greatly appreciated.
. Athlone African Community Group is proud to host a Gala Dinner to celebrate International Women's Day, on Saturday 4th March at the Sheraton Hotel Athlone commencing at 6pm.  Join them in a night of empowerment, dance, prizes and plenty of fun. E-mail : athloneafricancommunity@gmail.com.
. St Kieran's Community Centre Active Age Group meets each Wednesday morning from 10am to 12pm. New members are always welcome.
. Athlone Midlands Samaritans need additional volunteers. No experience or qualifications are necessary, and training is provided. If you are interested, please  e-mail: athlone.branchrecruitment@samaritans.org
. Monksland Active Retirement group meets each Thursday at 10.30am in Monksland Community Centre. New members are always welcome. Enquiries to Margaret at 086-8069726
Athlone Toastmasters is an educational organization that teaches public speaking and leadership skills. Meetings are held on the 2nd & 4th Tuesday of each month at 8.15pm in the Prince of Wales Hotel. Contact 086 – 0623519 for further information.  New members are always welcome.
The Samaritans are available on free call 116123, 24 hours a day to provide emotional support for anyone who wishes to speak to someone in confidence.
. St Mary's Active Retirement Club has reopened for meetings on Monday afternoon's at 3pm, in the Clonmacnoise Room at St Mary's Presbytery Athlone. New members are welcome.
. Athlone Indoor Bowls Club meets every Tuesday & Friday nights in St Peter's School Hall from 7pm. New members are welcome. For more information contact 086-2525593.
. Bingo will take place in St Kieran's Community Centre each Tuesday night at 8pm. All Welcome
. MABS (the money advice and budgeting service) is a free, confidential and independent service provided by the state guiding people with problem debt for more than 25 years. Money advisers are available by phone, email and live chat across the whole MABS network. You can contact MABS by calling 0818 07 2000.
. St Vincent de Paul: to reach out to the local branch in confidence please phone 085-1094354.