Athlone Community Radio's Community Diary will highlight local events and Community resources taking place throughout Athlone.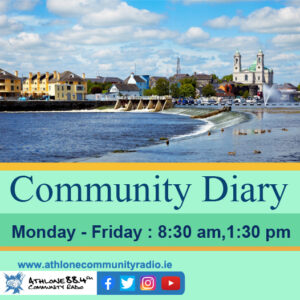 . Athlone Tidy Towns annual estate and garden biodiversity competition 2023 is now accepting applications for this year's competition, the closing date being Saturday July 1st. Application forms can be had by calling to Dooley's Flower Shop, Magazine Road or requesting a form via email to athlonetidytowns2022@gmail.com This competition is open to individual gardeners, residents associations, community groups and youth groups.
. Buccaneers RFC annual Golf & BBQ Classic takes place on Tuesday July 25th at the panoramic Christy O'Connor Jnr designed Glasson Lakehouse course overlooking Lough Ree. All support is greatly appreciated and tickets are available by contacting Buccaneers Club.
. Food and drink producers from Athlone and the Midlands are invited to join the new food and drink directory which is being developed for the region. This directory will be a go-to guide for regional food and drink producers and will be used to promote the award-winning food and drink that is produced in the region. Visit midlandsireland.ie for further information.
. As part of the 50th anniversary celebrations for Coosan Church, the parish hopes to have on display in the church a collection of photographs, cuttings from newspapers and items of interest reflecting on the last 50 years of Coosan church. The public are invited to bring items of interest to the parish office.
. Athlone Midlands Samaritans need additional volunteers. No experience or qualifications are necessary, and training is provided. If you are interested, please  e-mail: athlone.branchrecruitment@samaritans.org
The Samaritans are available on free call 116123, 24 hours a day to provide emotional support for anyone who wishes to speak to someone in confidence.
. MABS (the money advice and budgeting service) is a free, confidential and independent service provided by the state guiding people with problem debt for more than 25 years. Money advisers are available by phone, email and live chat across the whole MABS network. You can contact MABS by calling 0818 07 2000.