Call out to aspiring DJs!
Athlone Community Radio is handing the reins over to young and aspiring DJs* for three hours during their upcoming May Music Marathon.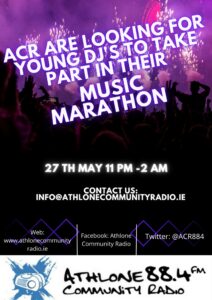 The 20-hour marathon will broadcast live from 6am on Friday 27th until 2am on Saturday 28th May.
*If you or someone you know is developing skills behind the decks, this is a great opportunity to gain experience and perform your work to a local audience. Email info@athlonecommunityradio.ie for more information.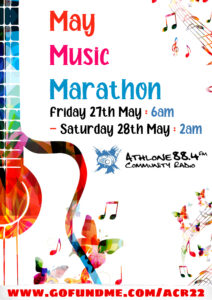 Popular morning presenter Benny Cooney will kick off the event from ACR's studios at 6am, followed by an eclectic mix of styles and personalities, including classical music with Kevin Free, and the team from the St. Hilda's Show.
At 2pm, the broadcast will move outdoors, where Kara Richards will introduce a host of local musical acts performing live from the Civic Centre.
It will be back to the studio from 6pm for non-stop music and requests with Mel Rea, Anna Kavanagh, and reliving the music of the Jolly Mariner days with Noel Lackey up until 11pm.
The party will continue with live DJs until 2am.
Athlone Community Radio broadcasts on 88.4fm, online athlonecommunityradio.ie and the tunein app. As a non-profit community radio, fundraising is crucial to cover overheads and your support keeps this essential service in your area.
gofundme.com/acr22
Follow Athlone Community Radio on social media platforms for itinerary and guest artists on the day.