Happy Birthday Athlone Community Radio!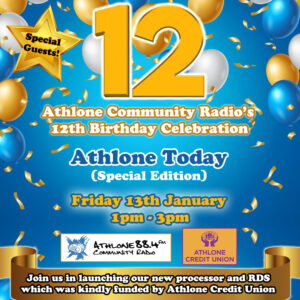 This weekend we celebrate 12 years on our full license, and to celebrate we will have a very special edition of Athlone Today between 1pm and 3pm on Friday the 13th of January.
Athlone Credit Union Limited will be our special guests, as we acknowledge the money we received from their Community Support Fund, which allowed us to buy an FM digital audio processor and RDS encoder – meaning we sound better, and our name appears on your car radio dial! Huge thanks to all at the Credit Union!
We will also be chatting to local dignitaries and politicians, and familiar faces who've been part of ACR since the early days!
Tune in, or come on down and join us for a chat and some food here in the ACT Business Development Centre!