Athlone Community Radio's Community Diary will highlight local events and Community resources taking place throughout Athlone. Community Diary is proudly sponsored by Athlone Credit Union.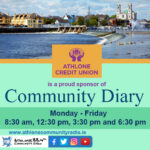 . Athlone Little Theatre presents two one-act plays 'Tell me another story, sing me a song', by Jean Lennox Toddie, and 'Wittgenstein in the West' by Stephen Toomey, from March 6th – 12th at 8pm each night. Bookings on-line only at athlonelittletheatre.ie.
. Westmeath Local Enterprise week will take place from Monday March 7th – 11th. A variety of business clinics and advice sessions will take placed throughout the week – all events are free to attend & pre-booking is essential. Register now at localenterprise.ie/westmeath.
. Athlone's Croi na hEireann Festival which runs from March 16th to 20th is promising plenty of music, entertainment and fun for all the family. Its programme of events was launched recently and includes a festival market, big ceili, fishing competition, a river safety display to name but a few. The festival will conclude this year with the St Patrick's Day Parade taking place on Sunday 20th March at 2pm. For further information please check social media.
. A coffee morning will be hosted by Liz Gilhooley and Robert Troy in aid of the Irish Cancer Society on Friday, March 25, from 10am to 12.30pm in Robert Troy's office on Gleeson St. Athlone. Your support would be greatly appreciated.
. MABS (the money advice and budgeting service) is a free, confidential and independent service provided by the state guiding people with problem debt for more than 25 years. Money advisers are available by phone, email and live chat across the whole MABS network. You can contact MABS by calling 076 1072400.
. Athlone Toastmasters is an educational organization that teaches public speaking and leadership skills. New members are always welcome. To find out more please visit athlonetoastmasters.org or find us on FB.
. St Vincent de Paul: to reach out to the local branch in confidence please phone 085-1094354.
. The Samaritans is a confidential helpline with a listening service with trained volunteers. They can be reached by calling free-phone 116123 24 hours per day.