Athlone Community Radio's Community Diary will highlight local events and Community resources taking place throughout Athlone.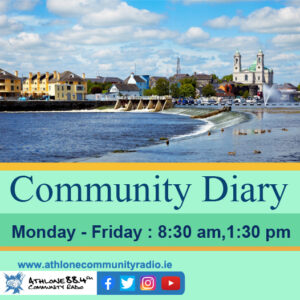 . The Mobile Library will stop in the Supervalu car park in Monksland this Thursday, May 18th from 1pm – 3.30pm. There is a great selection of books, CDs, DVDs, e-books and audio books for all ages and library membership is free.
. A table quiz in support of Feile na Sionainne Athlone will take place on Thursday, May 18th at 8pm at The Bounty Bar Athlone.
. Westmeath Bike Week continues until Sunday May 21st. Bike week is perfect for beginners, more advanced cyclists, or even those who just would like a leisurely spin at their own pace in a fun and safe environment. A full list of events taking place in County Westmeath for Bike Week is available on bikeweek.ie.
. A seminar for parents of children with Dyslexia will be held at the Sheraton Hotel Athlone on June 7th at 6pm. Topics up for discussion include: understanding dyslexia: tips and strategies to help: transition to secondary school etc. Contact : ekdyslexia@gmail.com too register.
. The 'Athlone 10 mile Run committee' is delighted to announce the return of the popular event on Saturday, June 17th. Starting at 11am in Clonown Village it follows much the same course as the Athlone Flat line marathon. Registration is on line at www.active.com.
. The Athlone Agricultural Show Committee is pleased to announce that the show will take place again this year on Sunday June 18th, at Michael O'Donohue's farm in Cornamaddy, the same venue as last year's show.
. As part of the 50th anniversary celebrations for Coosan Church, the parish hopes to have on display in the church a collection of photographs, cuttings from newspapers and items of interest reflecting on the last 50 years of Coosan church. The public are invited to bring items of interest to the parish office.
. St Kieran's Community Centre Active Age Group meets each Wednesday morning from 10am to 12pm. New members are always welcome.
. Athlone Midlands Samaritans need additional volunteers. No experience or qualifications are necessary, and training is provided. If you are interested, please  e-mail: athlone.branchrecruitment@samaritans.org
. Monksland Active Retirement group meets each Thursday at 10.30am in Monksland Community Centre. New members are always welcome. Enquiries to Margaret at 086-8069726
Athlone Toastmasters is an educational organization that teaches public speaking and leadership skills. Meetings are held on the 2nd & 4th Tuesday of each month at 8.15pm in the Creggan Court Hotel. Contact 086 – 0623519 for further information. New members are always welcome.
The Samaritans are available on free call 116123, 24 hours a day to provide emotional support for anyone who wishes to speak to someone in confidence.
. St Mary's Active Retirement Club has reopened for meetings on Monday afternoon's at 3pm, in the Clonmacnoise Room at St Mary's Presbytery Athlone. New members are welcome.
. Athlone Indoor Bowls Club meets every Tuesday & Friday nights in St Peter's School Hall from 7pm. New members are welcome. For more information contact 086-2525593.
. Bingo will take place in St Kieran's Community Centre each Tuesday night at 8pm. All Welcome
. MABS (the money advice and budgeting service) is a free, confidential and independent service provided by the state guiding people with problem debt for more than 25 years. Money advisers are available by phone, email and live chat across the whole MABS network. You can contact MABS by calling 0818 07 2000.
. St Vincent de Paul: to reach out to the local branch in confidence please call 085-1094354.
. St Peter & Paul's Parish is appealing for volunteers to help out in various ministries. Full training and support provided. Volunteers needed as Eucharistic Ministers, readers, collectors, altar society and altar servers.