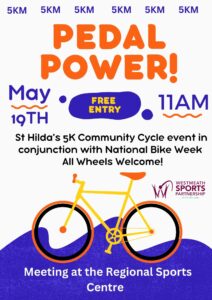 Athlone Community Radio will be broadcasting from the Pedal Power event from 11am – 1pm on Friday May 19th.
St Hilda's 5K Community Cycle event in conjunction with National Bike Week.
Deirdre Hunt will be joined live on air by participants of our QQI Level 3 Media Expression course, the 9 participants are undertaking this accredited course with the radio and will be using their new skills to research and present a 2 hour long outside broadcast on 88.4fm, online at athlonecommunityradio.ie and the tunein app.