Athlone Community Radio's Community Diary will highlight local events and Community resources taking place throughout Athlone. Community Diary is proudly sponsored by Athlone Credit Union.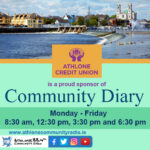 . Athlone Community Radio : We're really excited about our May Music Marathon! Join us from 6am on Friday 27th until 2am on Saturday 28th for some brilliant music from your favourite radio personalities, live performances at The Civic Centre on Friday 27th : 2pm – 6pm, streamed live on our Facebook Page by Studio 93 and talented young local djs!
Please help support our May Music Marathon at https://www.gofundme.com/f/acr22
.The Athlone African Community is hosting an event in Burgess Park on Saturday May 28th to celebrate Africa Day. They are looking for volunteers, performers, and anyone who would like to showcase African products. Please contact Nai on 089 272 9636, or visit Athlone African Community FB page for further details.
. A garden plant and cake sale will take place on Saturday May 28th at Athlone Mixed National School, Arcadia Athlone, from 11am – 2.30pm. All are welcome.
Multiple Sclerosis Ireland has announced details of its plans to mark World MS Day 2022. It is to take place on Monday, May 30th to raise awareness and support people living with MS, the most common debilitating neurological condition affecting young adults in Ireland. The theme of World MS Day this year is 'connections' and the campaign is about challenging social barriers and stigma that can leave people affected by MS feeling lonely and isolated. Please visit the Multiple Sclerosis Society social pages for further information.
. Westmeath Community Development in conjunction with Independent People with Disabilities is organizing a Free 'Disability and Older Persons' information event on Monday May 30th in Bloomfield House Hotel Mullingar. This event is very popular within the county and attracts a wide variety of individuals with disabilities, older people looking for information and those looking for advice on different issues relating to housing, access or employment. Please contact Linda-Jo Quinn on 087-2500161 for further information.
.The Oliver Goldsmith Festival 2022 is going back to its roots, and its pre-pandemic self, with an innovative twist this June bank holiday weekend. For information on the festival and to register for tickets please visit olivergoldsmithfestival.com
. An exciting new art exhibition 'The Heart of the Heartlands' has recently opened at The Village at Burgess on Lloyd's Lane Athlone. It features the new and contemporary work of Ballinahown artist Rosemarie Langtry. The exhibition runs until June 3rd.
. Athlone Musical Society is proud to present 'All Shook Up', the music of Elvis Presley, from Friday June 3rd – Monday June 6th at the Dean Crowe Theatre Athlone. For further information and booking please visit deancrowetheatre.com
.The date for Buccaneers Rugby Football Club's annual general meeting has been deferred to Wednesday, June 15th at 8pm in the lower deck.
. The Organising committee of the The Athlone Agricultural Show 2022 is pleased to announce that this year's event will take place at Michael O'Donoghues farm in Garnafailagh Athlone on Sunday June 19th. Plans are at an advanced stage and the committee is hoping for a great fun day for families and children. There will as usual be a large exhibition of farm animals, machinery, vintage and food stalls. Anyone interested in helping can contact the show secretary, Padraig Higgins at 087 – 2185160
. Monksland Active Retirement continues to meet in Monksland Community Centre every Thursday morning from 10.30am – 12.30pm. There are a variety of activities on offer and occasional outing. Please call Margaret on 086 – 8069726 for further information.
. Athlone Indoor Bowls Club meets every Tuesday & Friday nights in St Peter's School Hall from 7pm. New members are welcome. For more information contact 086-2525593.
. Bingo will take place in St Kieran's Community Centre each Tuesday night at 8pm. All Welcome
. MABS (the money advice and budgeting service) is a free, confidential and independent service provided by the state guiding people with problem debt for more than 25 years. Money advisers are available by phone, email and live chat across the whole MABS network. You can contact MABS by calling 0818 07 2000.
. Athlone Toastmasters is an educational organization that teaches public speaking and leadership skills. New members are always welcome. To find out more please visit athlonetoastmasters.org or find us on FB.
. St Vincent de Paul: to reach out to the local branch in confidence please phone 085-1094354.
. The Samaritans is a confidential helpline with a listening service with trained volunteers. They can be reached by calling free-phone 116123 24 hours per day.