Today is the Day!
6am on Friday 27th May, bright and early, we kick off our May Music Marathon! with Benny Cooney.
Join us from 6am on Friday 27th until 2am on Saturday 28th for some brilliant music from your favourite radio personalities, live performances and talented young local djs!
A marathon of Music and Fun for our Community, to help support your local Community Radio Station.
Please help support Athlone Community Radio at https://www.gofundme.com/f/acr22
From 6am–7am we have Music with Benny Cooney.
7am–8am : Kevin Free – Classical Music
8am–10am : Brekkie Fix with Benny Cooney
10am -11am : 70's Music with Seamus McKenna
12pm-1pm : 90's Music with Larry Wyse
1pm -2pm : St Hilda's with Dan Coulter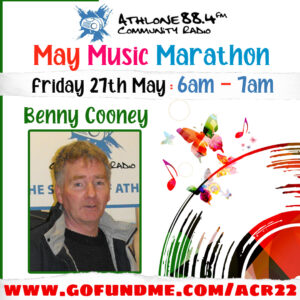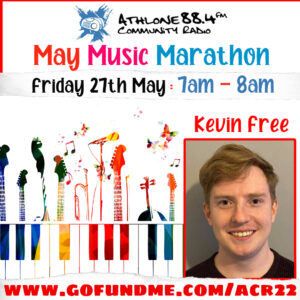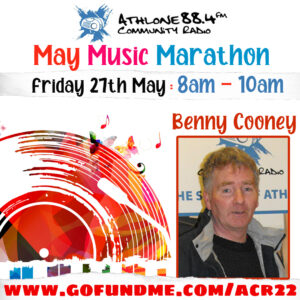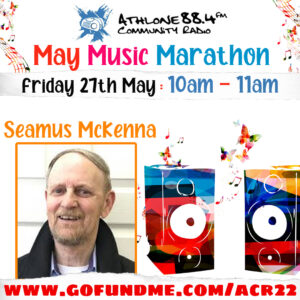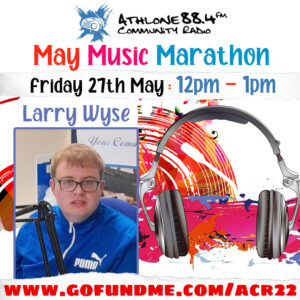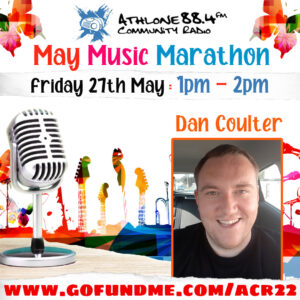 2pm-6pm : The broadcast will move outdoors, where Kara Richards will introduce a host of local musical acts performing live from the Civic Centre, including : Forget Me Not Choir, Chris Hall, Bianca Fachel, Stephen Heffernan, Dessie Parks, Gerry Flynn and Amanda Gunning.
We will have live streaming from our concert at the Civic Centre with well known local musicians as part of our fundraiser. Streaming will be brought to you by Studio 93 on the Athlone Community Radio Facebook page.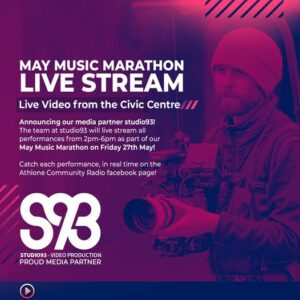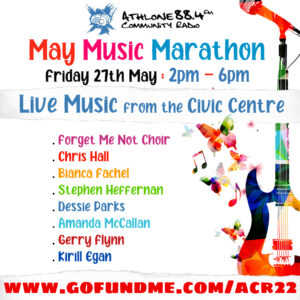 Finishing off our May Music Marathon will be :
6pm-7pm : Mel Rea with American Country Music
7pm-8pm : Anna Kavanagh with Irish Traditional Music
8pm-11pm : Noel Lackey – reliving the music of the Jolly Mariner days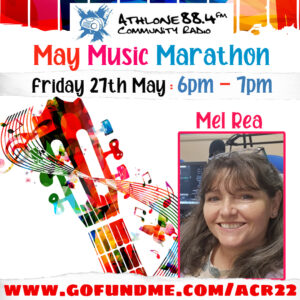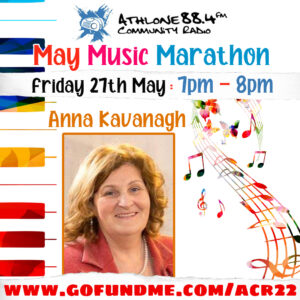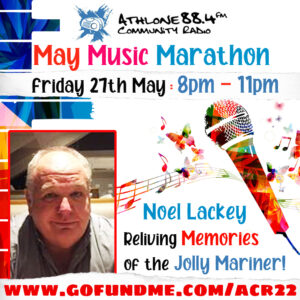 From 11pm-2am : We are delighted to have our Guest DJs mixing live .
Simon Healion and Braden Waters!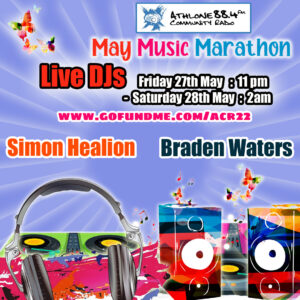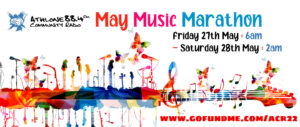 Please help support our may Music Marathon at https://www.gofundme.com/f/acr22
Athlone Community Radio broadcasts on 88.4fm, online at athlonecommunityradio.ie and the tunein app.
As a non-profit community radio, fundraising is crucial to cover overheads and your support keeps this essential service in your area.