Below you will find Athlone Community Radio's St Patrick's Day Schedule.
Join us for a day of celebration with a mix of old favourites and special programmes .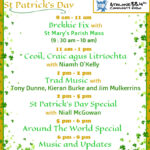 Athlone Town will also offer a huge amount of activities and events over the holiday period.
Community Diary is proudly sponsored by Athlone Credit Union.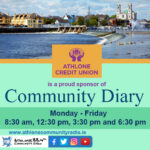 This year's Athlone St Patrick's Day celebrations promises a weekend jam packed with fun activities and events for all the family.
On Thursday 17th events taking place include a market in Athlone Town Centre from 12 – 6pm.
Music & dancing under the canopy at Church Street.
Poetry in the Park by Caroline Coyle at 2pm in Burgess Park.
The Athlone Pipe Band play in St Mary's Hall from 6pm – 8pm.
On Friday 18th, the market will again take place in the town centre.
A fishing competition at Lough Ree from 10pm – 6pm.
A greenway Kiddies Treasure Trail from 12pm – 2pm from the Whitegates to Garrycastle GAA Clubhouse
A set dance ceili with Rise the Dust at Athlone GAA clubhouse from  8pm.
On Saturday 19th, along with the market, there is a RNLI and Athlone River Safety Demonstration at 10am on the docks in Athlone.
Paddy's Ramblers Walking Tour starts at 10.30am at Creggan Bog Roundabout.
There is an American Football Game at 2pm in Athlone GAA Club.
On Sunday 20th along with the centerpiece St Patrick's Day Parade at 2pm, the market will continue in the town square.
Athlone Boat Club will host an open morning and display from 9am – 10.30am.
There is also a kids funfair in Burgess Park from 11am – 5pm and an Athlone Karate Club display from 12pm – 5pm.
Eva Coyle will play under the canopy in the town centre from 3.30 – 5.30pm.
There will also be festival music throughout the town on various nights of the festival.
Enjoy your St Patrick's Day Weekend.
Athlone Community Radio