Robbie Henshaw signed and framed jerseys up for grabs!
A coveted prize for rugby fans
This is your golden opportunity to own a piece of rugby history. We have two framed jerseys signed by Rugby star Robbie Henshaw for the taking! A single ticket into the draw gives you not one, but TWO chances to win a signed and framed jersey!
Price
Just €10 secures two shots at owning one of these exclusive jerseys. But that's not all! Nab three tickets for only €25! Increase your odds even further with five tickets for the unbeatable price of €40!
How to buy
Tickets are available online here.
We're offering a 20% discount on bulk orders (10+ tickets, online only). Physical tickets can be purchased at Athlone Community Radio's station in Ball Alley Lane, from staff or volunteers, or by calling 0906490722 (payment options available).

Draw
The draw takes place live on Athlone Community Radio 88.4fm and athlonecommunityradio.ie/listen-live/ before the Rugby World Cup Final on 28th of October 2023. On the big day, as tensions rise for rugby fans all over the world, you could be celebrating in style, accompanied by a signed and framed jersey from one of Ireland's most beloved rugby stars.
Sponsors
This amazing opportunity was made possible by the kind support of Elverys and Athlone Picture Framing, with massive thanks to Robbie Henshaw and his sister Katie. INTERSPORT Elverys have long been aware of the role communities play at the heart of sport. They have a presence in all the cities and nearly all the major towns in Ireland and are embedded in the communities they serve. Athlone Picture Framing's commitment to delivering quality and excellence is reflected in the craftsmanship of these framed jerseys, ensuring they will be a centerpiece in any rugby fan's collection.
Get your tickets!
Don't let this opportunity slip through your fingers! Grab your tickets now and join us on the edge of your seat. Get ready to celebrate victory with a signed, framed Robbie Henshaw jersey – a priceless keepsake that money can't buy.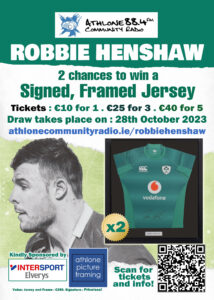 About Athlone Community Radio
Athlone Community Radio plays a key role in enriching the local community through its engaging programming and active involvement. We serve as a vital platform for local news and events, delivering up-to-date information and keeping listeners informed about what's happening in their area.
Our vibrant spirit fosters a sense of belonging among our members. Through regular gatherings and events, we create a warm and inclusive environment. This inclusivity encourages social interaction, breaking down the barriers of isolation that can plague modern society.
Moreover, Athlone Community Radio serves as a hub of support and assistance. Whether it's organising a fundraiser or promoting local music, we strive to ensure that no one is left behind. Through our work with local groups such as schools and sports teams, we provide opportunities for youth development and share a sense of pride with them on their progress.
Fundraising is an inherent necessity for many organisations that aim to serve their community effectively. Funding forms the lifeblood that sustains operations and fuels growth. Your support is greatly valued and appreciated. All support we receive contributes towards maintaining infrastructure, supporting dedicated volunteers, and ensuring that essential services and programmes continue to thrive.