Athlone Community Radio's Community Diary will highlight local events and Community resources taking place throughout Athlone.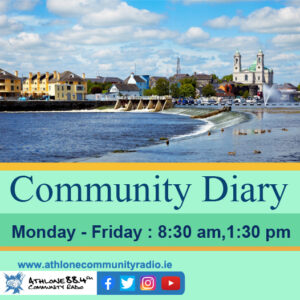 . A table quiz will be held in aid of Irish Pilgrimage Trust sponsored cycle to Lourdes 2024. The quiz takes place at the Bounty Bar on Thursday, November 2nd at 8pm. All monies raised go to the Irish Pilgrimage Trust Athlone/Roscommon branch. The Trust brings children to Lourdes at Easter for a week's holiday.
. The Rotary Club of Athlone is organizing a Gala Concert in aid of St Hilda's Services on Thursday, 9th November in the Radisson Blu Hotel, Athlone at 7.30pm. The concert will be given by the combined Bands of the Defence Forces, conducted by Captain John Carpenter and with special guest tenor Gavin Reilly, in an evening of military favorites and popular arias. Tickets for what promises to be a very special evening are available from eventmaster.ie or at the Radisson Blu Hotel.
. A GROW Mental Health Peer-Support Meeting takes place each Friday from 11am – 1pm, in Monksland Community Centre. Meetings are free and no referral is needed. For further information contact John at 086 4411358.
. Roscommon Drug & Alcohol services have set up a SMART Recovery meeting; it takes place at Vita House Outreach Centre in Monksland on Wednesdays at 1pm. Smart Recovery is a leading evidence based addiction recovery programme focusing on managing behaviors. The service is completely free and the addiction may be to anything. The focus will not be on the addiction but on your behaviors towards it.
. St Peters NS is looking for volunteers for their breakfast club. If you are free any morning from 8.30am to 9.10am, please contact 090-6492363.
. Independent People with Disabilities is extending a warm welcome to everyone to their information event focused on 'Empowering Communities to Create a More Inclusive Society' for people with disabilities. It takes place at the Shamrock Lodge Hotel on Wednesday November 8th from 7pm – 9pm.
. MABS the money advice and budgeting service is a free and confidential service for people who are experiencing money management and debt. MABS money advisers are on hand to provide advice and practical help regarding debt and working out solutions to money problems. Please phone 076-107 2400 in confidence.
. Kiltoom knitting Club continues on Mondays  at 11am in the parish hall. All are welcome.
. St Kieran's Community Centre Active Age Group meets each Wednesday morning from 10am to 12pm. New members are very welcome.
. Athlone Toastmasters is an educational organization that teaches public speaking and leadership skills. Meetings are held on the 2nd and 4th Tuesday of each month at 8.15pm in the Creggan Court Hotel, Athlone. Contact: 086-062 3519 for further information.
. Athlone Midlands Samaritans need additional volunteers. No experience or qualifications are necessary and training is provided. If you are interested please e-mail: athlone.branchrecruitment@samaritans.org.
. The Samaritans are available on free call 116123, 24 hours per day to provide emotional support for anyone who wishes to speak to someone in confidence.
. St Vincent de Paul: to reach out to the local branch in confidence please call 085-1094354.